Math in Our World: Planning a Garden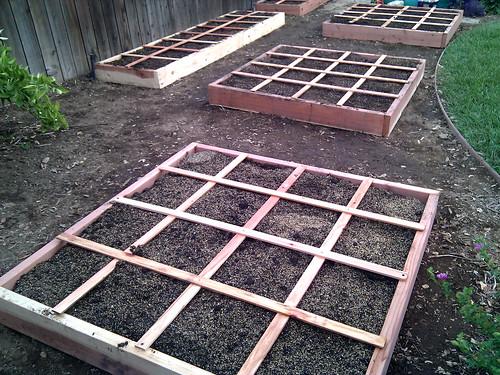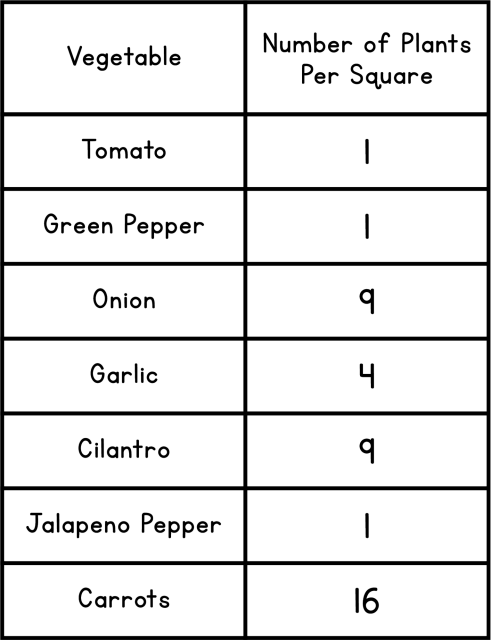 Keisha's family is getting ready to plant a garden. They want to grow vegetables to make salsa.
The family is still deciding what to put in each section of the garden. They need at least 4 tomato plants. Keisha loves carrots. She wants at least 2 squares of carrots.
Each square in the raised garden is 1 square foot. They will plant one type of vegetable in each square. The table shows how many vegetable plants Keisha can grow in one square.
Use pictures, models, or numbers to describe this situation.
What do you notice? What do you wonder?
What mathematical questions can you ask about this situation? Answer all the questions you can!
How many squares will be taken up with tomatoes and carrots? How many are left for other plants?
How many squares are there in the garden? Can you plant 4 tomato plants, 2 squares of carrots, and at least 1 square each of the other vegetables?
Show your work to someone else, and explain your thinking. Did they understand?
Ask whether they have any other questions you can answer!
Plan your own garden. Think about the vegetables you like. Use the guide below to determine how many plants you could put in each square. How large would your garden be? How many of each type of plant would you have? Can you plan a garden that would hold 100 plants?